So you're thinking of becoming a Bristol landlord?
Over the next couple of months our letting team, with over 15 years' experience running Bristol's best letting agency, will use their expertise to give you some nuggets of information. We'll help to set you on your journey to becoming a successful Bristol landlord. 
In this article we'll talk you through where to start, the costs and give you some helpful tips. We really hope you enjoy the ride.
Becoming a landlord
While investing in the Bristol property market may be a way to see a sizeable profit when you eventually come to sell it – do bear in mind that particularly in the early days, you could be running at a loss. Things like getting your property ready to rent, maintenance, repairs, insurances, Health and Safety checks, voids in tenancy or a change in mortgage interest rates can all eat into profits. The key is to be realistic; if you are looking to make a quick buck, this probably won't happen. That said, whilst there is always a risk, property investment can be both financially and personally rewarding.
Where do I start?
So you want to invest in Bristol property but are not sure where to start? Well first things first, do you have a property to let? If you already own a property you want to rent out then that's step 1. However, if you do still have a mortgage then make sure you have a conversation with your lender – letting without the agreement of your provider could breach the contract.

If you don't have a property to let and aren't a cash buyer, you'll probably need to find a mortgage. Spending time to find the best buy-to-let mortgage deal could save you a lot of money. This is also a good way of understanding what you can afford. Typically, with a buy-to-let mortgage, you'll need a bigger deposit, interest rates tend to be higher, and the fees are often more expensive than for your home.
Costs include deposit, interest rates and fees, but be sure to read through all the charges including 'early repayment'; consider how long you are looking to hold on to this investment when choosing a deal.

With some good mortgage research, you'll understand your budget for your rental, but there are other costs to consider.
What are the costs of being a landlord?
Whether you own a property or are paying the mortgage, there are other expenses to consider as a landlord, including:
Building Insurance – you'll find this is a requirement of most mortgage lenders.
Buying the property – Legal expenses, surveys, stamp duty etc.
Legal and mandatory costs – Include landlord registration (depends on which council https://www.gov.uk/find-local-council), Energy Performance Certificate, Deposit Protection Scheme and ICO registration.
Licensing costs – These range depending on the type of property you are letting e.g., Bristol HMOs have additional licencing requirements. We've got HMO licensing experts that can help you with this.
Health & Safety Legal requirements – You'll need to make sure that the property is safe for your tenants. This includes gas, electric and fire safety checks. If you are using a good letting agent then they can arrange these for you.
Letting agent fees – You can pay a letting agency to take away the hassle of advertising the property (photos, floorplans and listing), book viewings, arranging the let and vetting the tenants (referencing and credit checks.) They'll also draft the letting agreement and collect the security deposit. Find out more>
Maintenance and repairs – Again, you can use a letting agent to manage your tenants and ongoing maintenance, but the property needs to be kept in a good state of repair. The Renters Reform bill will tighten the legislation around this.
Tax – After all that if you're still making a profit then HMRC will want their cut! You'll have to pay income tax on any profits you make from your Bristol rental.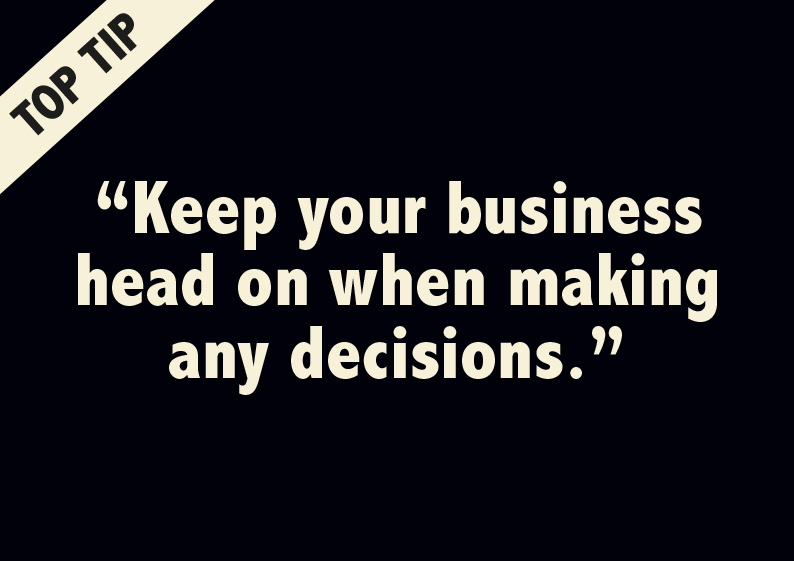 Head or heart
Some landlords fall into the trap of treating the property like it's going to be their home, spending extra money on expensive finishes and furnishings. Remember, every tenant will have their own taste, with the majority looking for a clean and well-decorated property; neutral colours will usually make sure you don't put anyone off. That being said, it is nice to have one or two touches to make the property feel more attractive and homely for a new tenant.
Think through all your expenditure; is this needed? Will this add value? Does it make the property more appealing? Will this have broad appeal? Can I afford it?
An easy-to-damage worktop might not be the right choice over a more durable surface that can still look good, but last for years. A high-spec fitted kitchen from a luxury or high-end brand may look brilliant but it might not draw you any more rent than a high-spec kitchen from a budget company. It might be an appropriate spend for a penthouse in Clifton, but maybe not a flat in Filton.
That's not to say that investing in a nice kitchen and bathroom doesn't pay, a nicer finish will often command a higher rent and make for a happier tenant. You also don't want to buy something that's not going to last; just be mindful that this is ultimately a business.