Our team at The Letting Game will be running around Bristol covering 100k to raise money for Bristol Animal Rescue Centre (Bristol A.R.C). So if you can spare some money to sponsor the team for this event, it will go towards some very grateful furry and not-so-furry friends.
What are we doing?
On Saturday 30th July some of our Letting Game team will be running, walking and perhaps crawling a total of 100k across Bristol, in support of our furry friends at the Bristol Animal Rescue Centre.
Why are we doing this?
We're proud to be a Bristol independent business and want to do our bit for the City's animals. As we launched Bristol's first pet-friendly letting service in 2018, it made sense to join forces with Bristol Animal Rescue Centre – Bristol's longest-standing and largest local animal charity.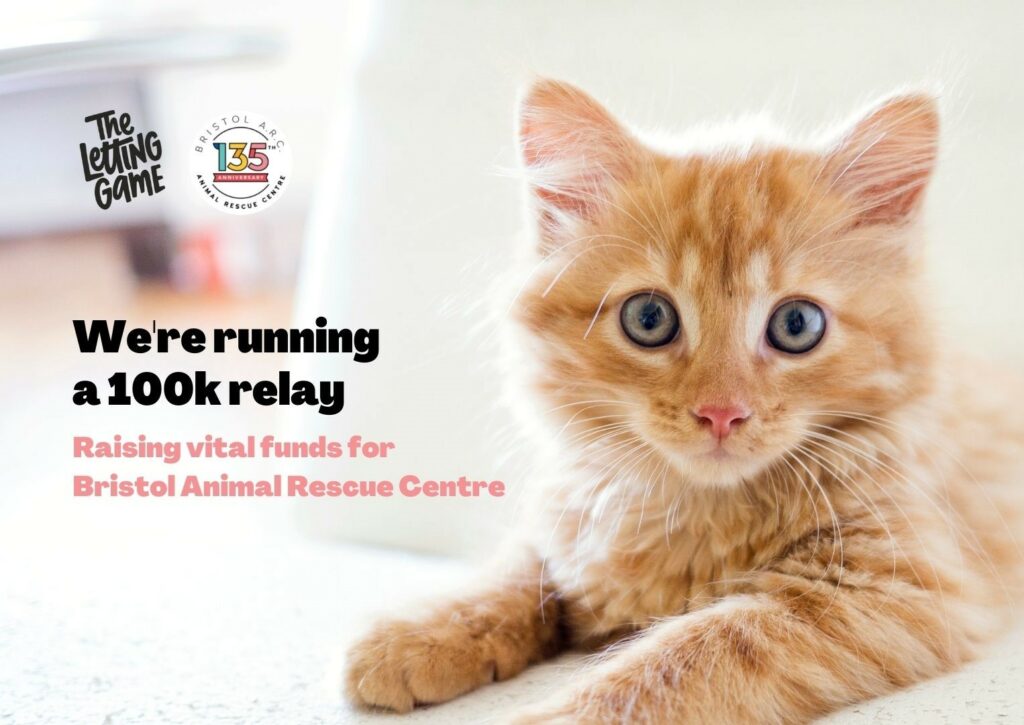 Want to help?
We'd love your help raising money to support Bristol A.R.C's vital work within the local community. Every pound raised will go towards rescuing, rehabilitating and rehoming Bristol's most vulnerable animals. If you'd like to donate visit our JustGiving page.
£5 could help provide an animal treat pack, such as a bouncy ball or tasty snack, to reduce stress and brighten up their time with Bristol ARC
£10 could help provide warm comfy beds for our feline friends whilst they wait for their forever homes
£25 could help provide a well-being kit for the pooches, including providing calming music, soothing scents and a comfortable blanket to help reduce stress
Bristol Animal Rescue Centre is the city's oldest and largest animal rescue centre, helping, healing and homing thousands of animals each year.